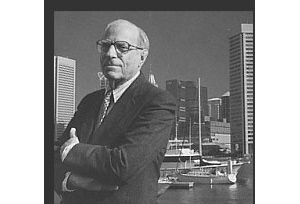 Walter Sondheim, civic leader and the inspiration for UMBC's Sondheim Public Affairs Scholars Program.
About Walter and Janet Sondheim
Video: Click here to view a tribute to Mr. Walter Sondheim.  Or visit the newsroom to view articles about Walter and Janet Sondheim.
For Sondheim and UMBC, Shared Values Set in Stone (from UMBC News, published May 17, 2005)
Dedication of Statue, Building Celebrates Walter Sondheim's Civic Leadership,

May 11, 2005

, at UMBC.
UMBC honors Walter Sondheim, Jr., a pivotal leader of school desegregation and economic revitalization in Baltimore, for his achievements in community service, social justice and diversity on May 11 with the dedication of the University's first named academic building, Janet and Walter Sondheim Hall, and an accompanying sculpture.
The event caps off a successful $6 million campaign to endow the Sondheim Public Affairs Scholars Program at UMBC and rename the former social sciences building in honor of Sondheim and his late wife, Janet. The statue dedication and building ribbon cutting will be preceded by a public conversation with Sondheim on Baltimore 's social and economic progress, moderated by WYPR 88.1 FM's Marc Steiner.
"Walter Sondheim embodies the values that the UMBC community treasures most," said UMBC President Freeman A. Hrabowski, III. "He is a visionary leader who cares deeply about children, families and education in Baltimore. The statue and building we dedicate in his honor will stand for a long time. But a more fitting and lasting tribute will be the Sondheim Public Affairs Scholars who bear his name as they serve the public and make a difference to generations to come."
Founded in 1999, the Sondheim Public Affairs Scholars Program supports, inspires, and empowers talented undergraduate students as they address society's most pressing problems. Through an interdisciplinary approach combining service learning, internships and intensive advising/mentoring, over 40 Sondheim Public Affairs Scholars have graduated from the program or are currently receiving training for careers in law, social work, public administration, business, education, environmental policy, politics and other fields.
Sondheim is perhaps best known for leading the desegregation of Baltimore City Public Schools as chair of the City School Board and for guiding the "Baltimore Renaissance" of downtown and the Inner Harbor in the 1970s and 1980s as chairman of Charles Center-Inner Harbor Management, Inc.
The campaign to endow the Sondheim Public Affairs Scholars Program at UMBC attracted leadership support from The France-Merrick Foundation, The Abell Foundation, The Jacob and Hilda Blaustein Foundation and The Annie E. Casey Foundation, along with gifts from more than 20 other individual and foundation donors.
While Sondheim has received many honors over his career, the UMBC hall is the first entire structure named in his honor and the statue, sculpted from cast bronze by Maryland artist Antonio Tobias Mendez, is the first life-size rendition. The sculpture installation includes quotes from Sondheim reflecting his values.
"Like Mr. Sondheim, this statue is inspiring and educational," said Mendez. "In the future, students who view it will understand his character and dedication to community service."
As of the spring 2022 semester, nearly 250 students have graduated from the program named after Mr. Walter Sondheim.  See Alumni Stories for how they fulfill the mission of the program.