Sondheim Public Affairs Scholars Program Alumni maintain connections with their fellow Scholars and UMBC long after graduation. The Sondheim Public Affairs Scholars Program facilitates connections by bringing the alumni together for social activities as well as official Sondheim Public Affairs Scholars Program events like Scholar Selection Day.
Meet the Alumni
Graduates from the Sondheim Public Affairs Scholars Program go on to become leaders in public life. UMBC and the Sondheim Program prepare students for entry into the best graduate and law schools, and for first jobs in business, education, and public service. The Sondheim Program actively encourages networking for alumni to mentor and help current Scholars and to connect with their fellow graduates through avenues like UMBC's Alumni Community, Retrievers Connect, as they pursue education and professional advancement. There are many opportunities for alumni and other supporters to give back to the Sondheim Public Affairs Scholarship Program, including mentoring current students, networking with soon-to-be graduates, sponsoring an internship, or speaking at a scholar seminar.







Alumni Day at the 
Men

's 

Basketball

 Game

On Saturday January 19th, Sondheim Scholar Public Affairs Program alumni supported the UMBC Men's Basketball Team as they played against UAlbany. The alumni gathered for a pre-game lunch at the UMBC Event Center. After catching up and enjoying each other's company for an hour, they cheered on the basketball team. The team won a nail-biting 65-64 victory over Albany, with the final points scored in overtime!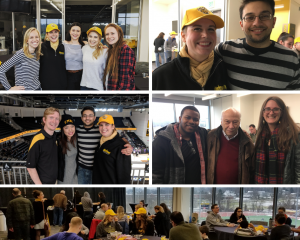 Alumni Happy Hour 2019