Students are encouraged to apply for undergraduate admission by the university's early action deadline of November 1. Students applying to the Sondheim Scholars Program must submit the Sondheim application and supporting documents to the Office of Financial Aid and Scholarships by January 22. Final award decisions will be announced by the end of March.

Timeline 2021-2022
August 1, 2021: Sondheim Public Affairs Scholars application goes live online
November 1, 2021: UMBC early action admissions deadline
January 15, 2022: Original deadline to apply for the Sondheim Public Affairs Scholars Program
January 22, 2022:  New!  Extended deadline to apply for the Sondheim Public Affairs Scholarship
Late January/early February 2022: Finalists are invited to interview for the program on Scholar Selection Day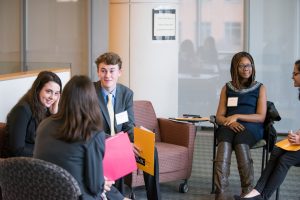 February 1, 2022: UMBC regular decision admissions deadline
March 5, 2022: Scholar Selection Day (Virtual)
Late March 2022: Selected students are invited to join the Sondheim Scholars Program
May 1, 2022: Final deadline to accept an invitation to join the program
Students must apply in the senior year of high school for entrance in to the Sondheim Public Affairs Scholars program as UMBC freshmen. Scholars receive generous four-year scholarships in addition to program opportunities and advising.