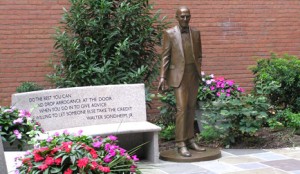 Students must apply in the senior year of high school for entrance into the Sondheim Public Affairs Scholars Program as UMBC freshmen.  Students must also be admitted to UMBC to be eligible, so scholarship candidates should take advantage of the early action admissions deadline of November 1.
The Sondheim Public Affairs Scholars Program is a merit scholarship program.  Students are selected based on the strength of their written application, academic background and impression made in the faculty interview.
The application is judged based on the depth and breadth of community experiences, critical thinking and research, writing ability as demonstrated through the policy essay and letters of recommendation submitted with the application.  Academic preparation is judged based on a student's cumulative GPA, standardized test scores (SAT or ACT), and strength of high school curriculum including advanced courses.
The Sondheim Public Affairs Scholars Program is open to students with a strong interest in public affairs among all majors.