student organizations
Both UMBC and the Sondheim Scholar Program work to promote student leadership in all aspects of student life. Not only do students have the opportunity to be elected to influential executive positions, but they also have the opportunity to create their own organizations. When engaging in student leadership, Scholars learn about creating relationships, managing processes, and making decisions. Through these experiences students gain invaluable skills that will continually prove useful in their personal and professional lives.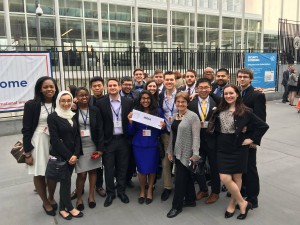 Hanna Dasoo
Hanna is the President of UMBC's Model United Nations and is a student coordinator for the Refugee Youth Project.
Kyle Wood
Kyle and fellow Sondheim Scholar Will Rice co-founded the UMBC Moot Court Club. The team recently competed in the American Collegiate Moot Court Association National Tournament in Long Beach, CA.
"Do you want to make a meaningful difference by helping to solve problems, build communities, and empower others? UMBC is a national leader in preparing students for lives of deep community engagement and impact. In working together with others to make a difference on campus and beyond, students learn how to imagine and organize social change projects, build powerful networks, bridge differences and co-create their communities and world. Student Life supports this important aspect of campus life through a variety of programs and supports for student leaders and future leaders."