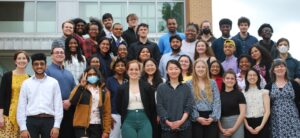 In 1999, the Public Affairs Scholars Program was created by then-Provost, Dr. Arthur Johnson to attract the very best students with interests in public issues and policy to UMBC, and prepare them for lives and careers of impact in public service inside and outside of government. Building on UMBC's strengths in the humanities and social sciences, Sondheim Scholars learn about public policy and service, and gain experiences crucial to improving society. The first Director was Dr. Roy Meyers of the UMBC Department of Political Science, who designed many aspects of the program and encouraged scholars towards internships, research, and leadership positions on and off campus.
A successful multi-million dollar campaign to endow the Public Affairs Scholars Program as the Walter Sondheim Public Affairs Scholars Program began in 2002. In 2005, a statue of Sondheim was unveiled and the former social sciences building was re-named in honor of Walter Sondheim, Jr. and his late wife, Janet. "Walter Sondheim embodies the values that the UMBC community treasures most," said UMBC then-President Freeman Hrabowski, III. "He is a visionary leader who cares deeply about children, families and education in Baltimore. The statue and building we dedicate in his honor will stand for a long time. But a more fitting and lasting tribute will be the Sondheim Public Affairs Scholars who bear his name as they serve the public and make a difference to generations to come."
Over 200 students have participated in the Sondheim Public Affairs Scholars Program, received scholarships, mentoring, and other support. Alumni have gone on to study law, public policy, medicine and other fields at top post-graduate institutions in the U.S. and abroad. They also serve the community as policy analysts, lawyers, social workers, justice activists, environmental experts, corporate leaders, and teachers. Sondheim Scholars continue Janet and Walter Sondheim's commitment to social justice and public service, embodying UMBC's vision—to integrate research, teaching, learning and civic engagement so that each advances the other for the benefit of society.